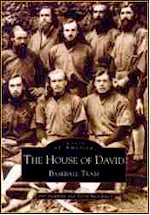 The HOUSE OF DAVID BASEBALL TEAM RESEARCH PROJECT
Purchase Options

Purchase the "House of David Baseball Team" here

House of David Baseball Team History
The Israelite House of David, a religious community, was established in Benton Harbor, Michigan, in 1903 by Benjamin Purnell, along with his wife Mary. The purpose of this colony was to gather the 12 lost tribes of Israel for the "Ingathering", to await the Millennium. Benjamin Purnell, a sports enthusiast, encouraged the playing of sports. The House of David started playing baseball around 1913 as a weekend endeavor, by 1915 the team was playing a more grueling schedule. By 1920, the team was "barnstorming" around the country, earning money for the colony, and using the team as a way to preach to potential members. While the team was on the road, the colony established a home team, a girl's team, and a junior boys team. The players were led by its manager, Francis Thorpe and the team was originally comprised of members of the colony. The team was always an attraction by their long hair and beards, a doctrine of the religion, and would draw substantial crowds wherever they played.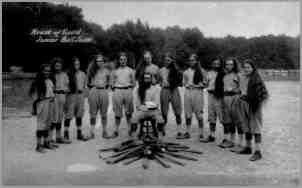 By the early 20's, in need of participate with better playing abilities and by the lack of colony member participation, were in the business of hiring players not of the faith. These "Players for Hire" were required to grow a beard, and some played for the team for many years.
By the late 1920's the House of David was under scrutiny for alleged indiscretions by it's leader Benjamin Purnell. A long court case was waged by the State of Michigan against the religious leader. Eventually Purnell, in poor health, lost the court battle and was sentenced to be banished from the colony. After the court battle was waged, Benjamin Purnell's health weakened even more. He died in December, 1927. After the death of Benjamin, an internal power struggle for the colony ensued. After this struggle, the colony divided into two separate factions, and eventually two separate colonies. One was the Israelite House of David, whose members believed that Benjamin was the one and only leader, which was led by colony pillar Judge H. T. Dewhirst. This colony went by the moniker of "The House of David". The other colony, whose members believed that Mary shared the leadership with Benjamin, was led by Mary Purnell herself. This colony was located across the street from original colony and was called the Israelite House of David, as Re-Organized by Mary Purnell. This group went by the name of "The City of David". For promotional purposes both teams utilized the House of David name. The House of David continued to sponsor barnstorming teams until the late 30's, then sponsored teams in weekend semi-pro leagues well into the late 40's. At one time the House of David had up to 3 teams barnstorming around the country. The City of David sent teams out barnstorming from 1930 to 1940, then again from 1946 to 1955.