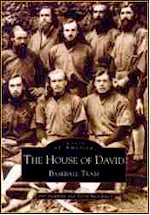 The HOUSE OF DAVID BASEBALL TEAM RESEARCH PROJECT
Project Goals:
Purchase Options

Purchase the "House of David Baseball Team" here

The House of David Baseball Team Research Project is dedicated to obtaining information, box scores, and oral histories from former players and fans. Our primary goal is to preserve the baseball team history as accurately as possible, into a comprehensive database of players, with statistical analysis. All information is used for the sole purpose of this project. Effective June, 2000 The House of David Baseball Team Research Project has initiated a modified research objective.

In order to fully document this baseball team, our goal will begin compiling an oral history of ALL House of David Teams. We also will be expanding our research to include information on Louis Murphy's Spring Valley House of David Team and other teams that utilized the House of David name, with or without consent of the House of David or City of David colonies. We are particularly interested in oral histories from former players who would be willing to share their experiences. We would also like to talk with family members of players, or individuals who remember watching games involving one of the many House of David teams. If you know of anyone that holds information about the team, and would consent to an interview, please contact us at: peppergame@peppergame.com

Please be aware that the members of the research project will not and do not actively solicit information for resale.